Who is 4SE:
FourScreen Entertainment is a teen entertainment media company formed by the partnership of 12to20, the leading teen marketing agency and Rafelson Media, the global music and video production firm.
FourScreen Entertainment develops teen music stars, web and television programming, films, and brand campaigns, all focusing on the youth market.
Its' management arm, RnR Management provides development and artist career guidance for talent geared towards this market.
By leveraging the expertise, experience and assets of Richard Ellis (Founder of 12to20) and Peter Rafelson (Founder of RMC), including production, marketing, online and broadcast programming and recurring live events, FourScreen Entertainment will create a self-contained development and promotional vehicle for its young artists.
Breaking News:
FourScreen Entertainment is proud to announce our first artist signing, 18-year-old Australian rocker, Samantha Lombardi, who comes to FourScreen with her unique style, her in-your-face songs and an eye towards capturing the hearts and minds of young music fans across the globe. FourScreen is currently writing and producing Sam's debut EP. Expect her first releases to hit the airwaves in the 2nd Quarter of 2009.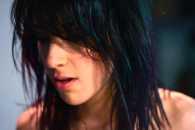 Click here to hear Sam's Music
Click here to read Sam's Press Release
Stay tuned for updates.